BOBCAT FIRE
Information, Resources, and Damage Reporting
Bobcat Fire Incident information
The bobcat fire is currently actively burning in the San Gabriel Mountains. Multiple communities remain under either evacuation warning or evacuation orders.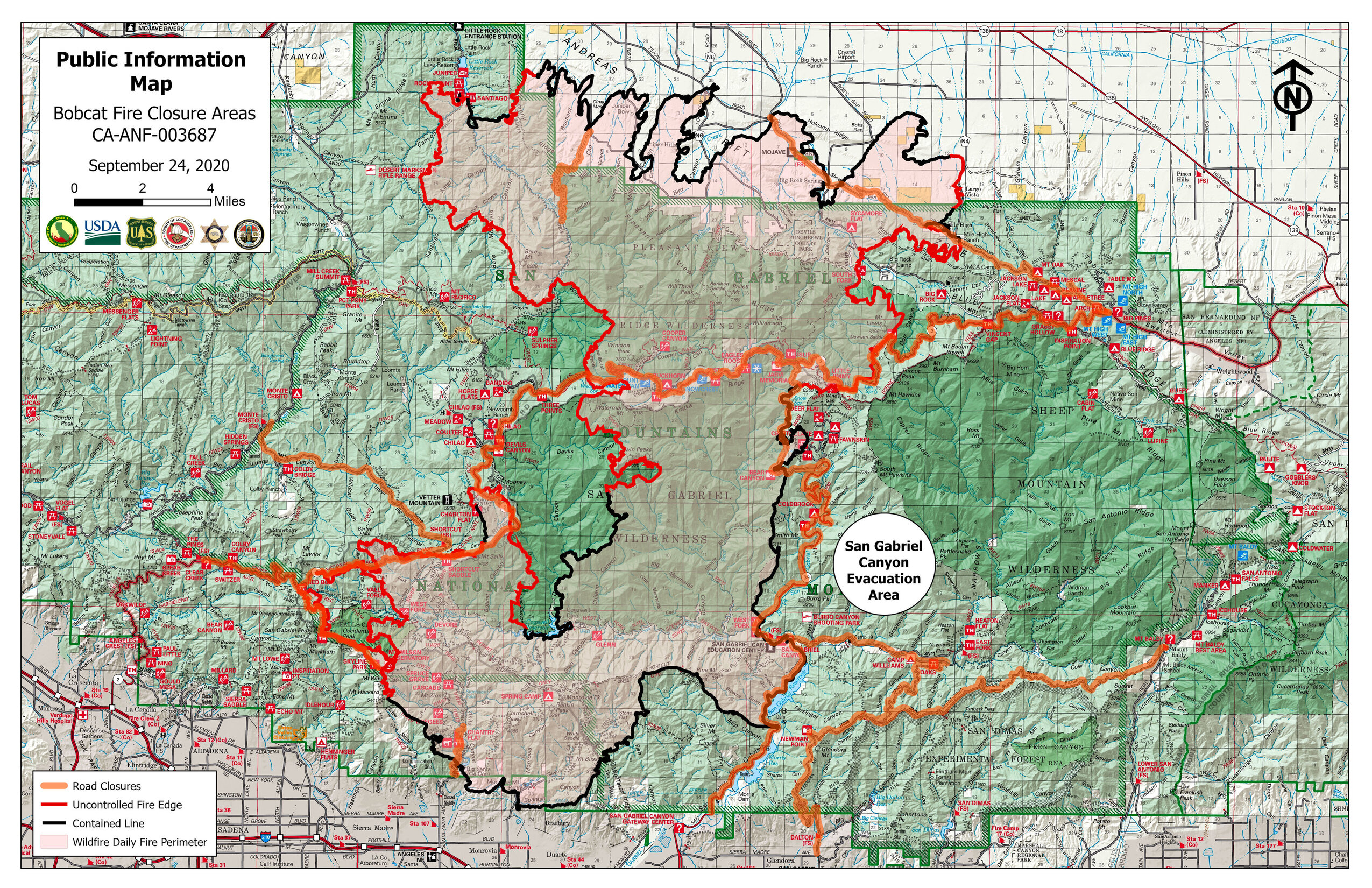 See table below for the list of communities with evacuation orders or warnings. For more information on the status of the Bobcat Fire and evacuation areas, please call the Fire Information line at (626) 574-5208.
 
Additional Fire Preparedness and Information Resources
Visit Ready, Set, Go! at fire.lacounty.gov/rsg/
Fire Information: Inciweb:  inciweb.nwcg.gov and search "Bobcat", Angeles National Forest
Facebook: @angelesnationalforest Angeles
Twitter: @angeles_NF
Los Angeles County Fire Department Twitter: @LACoFDPIO
 
Local Assistance Center
The County Office of Emergency Management has established a Local Assistance Center (LAC) for people impacted by the Bobcat Fire and Lake Fire.
At the LAC individuals will be connected with participating County Departments or receive referrals to other needed resources.
Due to COVID-19, all individuals will be screened for temperature and will participate in a questionnaire prior to entering the LAC. Face coverings are required.
People who have been able to confirm any damages to their building or personal property can also fill out a damage report either online below or by calling 2-1-1.
The County Departments participating in the LAC include:
County Assessor's Office: Provide property assessment information, property tax relief, and assistance with penalty and interest waivers. 
Mental Health (DMH): Provide referrals for mental health counseling, grieving, coping, resources and crisis intervention and triage.
Public Health (DPH): Provide information on safe cleanup after fire, food safety, public health services, and guidelines for onsite wastewater and private wells following a fire. 
Public Social Services (DPSS); MediCal, CalWorks, General Relief: Assist with food stamps (CalFresh) and expedited registration for MediCal eligibility. 
Public Works; B&S, Road Maintenance, Water Resources: Provide information on how to properly dispose of debris and an accredited list of contractors for trash pickup. Additional services include: storm water engineering, mudflow advice, environmental guidelines, safety assessments and rebuilding information. 
Regional Planning: Long range planning, land development counseling, project/case intake and processing, environmental review and zoning enforcement
The LAC is now closed and appointments are no longer being scheduled, for more information, please dial 2-1-1.

Report Property Damage from the Bobcat Fire

211 LA is taking Damage Reports on behalf of the County of Los Angeles for people who have experienced property damage or loss due to the Bobcat Fire. This data is important for seeking Federal and State aid for those impacted by the fire. You also have the option to consent for the County and/or disaster relief and recovery organizations to contact you in the event that additional resources become available. 
If you have questions or need assistance filling out the form, you can call 2-1-1. 
 
SAFETY WHEN RETURNING HOME AFTER A FIRE 
There are many hazards that may exist when returning to your home after a wildfire. These hazards can include fire ash, damaged utilities, exposed and burned structures, as well as hazardous materials. To protect yourself from these hazards, it is important to utilize personal protective equipment that can include breathing protection (N-95 rated respirators), protective clothing, gloves, and boots, as well as eye/face protection.
Replacing Federal Documents & Help with FEMA/SBA Applications
Senator Dianne Feinstein's office is available to provide assistance with federal documents for California residents who have been affected by the Bobcat Fire (or other CA wildfires).

The office can assist with:
- Replacement of federal documents that were lost in the fire, including Social Security cards, U.S. passports, green cards, and other immigration documents.
- Problems that arise with pending FEMA/SBA applications (residents MUST have already applied to the agencies for aid).

To request help, residents can:

1) Complete a Privacy Release Form online at https://www.feinstein.senate.gov/public/index.cfm/submit-casework and,
- email it to casework@feinstein.senate.gov
- fax it to (202) 228-3954
- mail it to: 1 Post St., Ste. 2450, San Francisco CA 94104

2) Call the office at (415) 393-0707
The release form does not have to be detailed and it does not have to include a mailing address, but it MUST INCLUDE:
- Resident's name
- Contact information
- Brief description of the problem
- Resident's signature
A list of FAQ's is available at https://www.feinstein.senate.gov/public/index.cfm?p=casework-faqs
All wildfire assistance requests are being treated as emergencies and will be processed as soon as possible.
Red Cross Immediate Financial Assistance
The Red Cross will provide $450 to households whose homes were confirmed to have been destroyed or sustained major damage from the recent California Wildfires and need help taking care of emergency needs. Eligible households should apply over the phone by calling 800-RED-CROSS.

To be eligible for immediate financial assistance, households must meet all the following requirements:

• Applicant's pre-disaster primary residence is located in a confirmed disaster-impacted geographic area.
• Applicant is the head of household and is not listed as a household member on any other Red Cross assistance application.
• Applicant's primary residence suffered major damage or was destroyed, as verified by CAL FIRE.
• Applicant's identity and proof of residence details can be verified.
Please see the document for details on eligibility requirements and how to apply.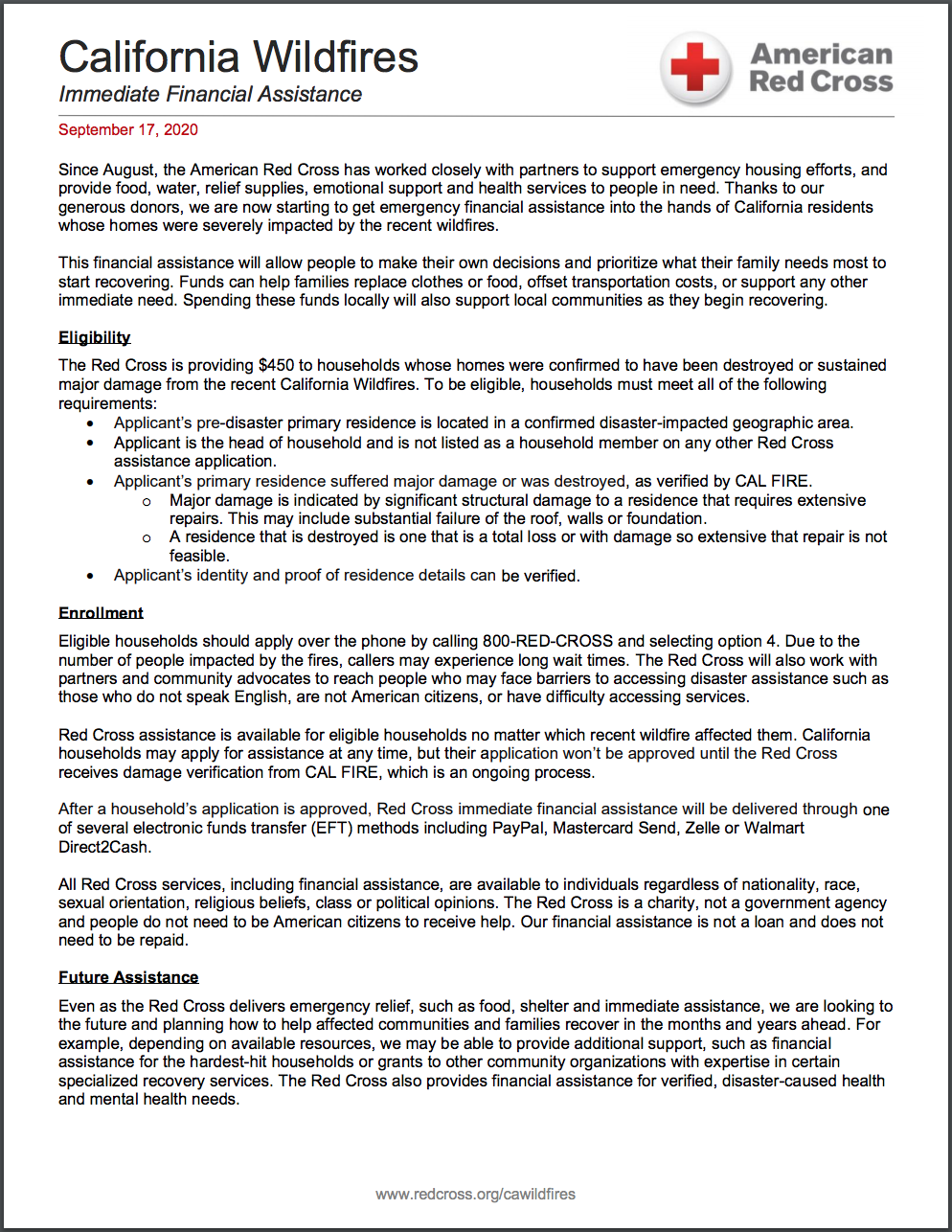 Red Cross Wildfire Financial Assistance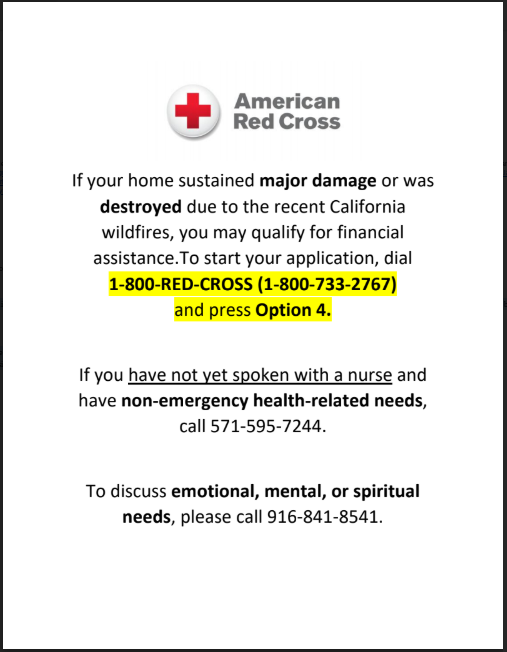 Evacuation Updates
| City/Community | Neighborhood/Street | Status | Alerts |
| --- | --- | --- | --- |