Novel Coronavirus (COVID-19)
Find information about COVID-19 and the latest updates here. If you have questions and would like to speak to someone, or need help finding medical care, call the Los Angeles County Information line 2-1-1, which is available 24/7.
Updated: 01/26/21- Los Angeles County residents who are 65 years old and older can now register for COVID-19 vaccination appointments. Residents in this high-priority age group with internet access should visit VaccinateLACounty.com to schedule their appointments. Residents who do not have access to a computer with internet or residents with disabilities may call (833) 540-0473 between 8 a.m.- 8:30 p.m. for assistance. Please do not call the LA County COVID-19 Vaccine Hotline or 2-1-1 for appointment scheduling if you are able to access and use the appointment website
Please Note: If you are calling the County's vaccine hotline or 2-1-1 for COVID-19 vaccine appointments, please be aware that call center staff only have access to the same appointment websites that the public has. If you have internet access, please visit the websites: LA City Sites by Carbon Health and LA County Sites by CA Department of Public Health - there is no reason to wait in long call lines if you can access the sites online. At this time, the Carbon Health site allows you to save your information so you can be notified when more appointments become available.
This week the County of Los Angeles announced an additional COVID-19 vaccine appointment scheduling site: My Turn. My Turn does not allow the creation of a profile or alerts but will let you know if there are appointments immediately available in your area. If there are no appointments available, please continue to check back as more appointments will be added.
REGIONAL STAY AT HOME ORDER ENDED JANUARY 25, 2021: WHAT YOU NEED TO KNOW
The Regional Stay Home Order was lifted on January 25, 2021, as projected ICU availability over 4 weeks in all regions rose to over 15%. Once a region exits the Regional Stay Home Order, counties within that region return to the appropriate tier and rules under the Blueprint for a Safer Economy.
Los Angeles County is moving quickly to align its Health Officer Order with the guidance issued by the state of California and key sectors will be able to reopen immediately.
By Friday, January 29, 2021, Los Angeles County anticipates the reopening of additional key sectors—including outdoor restaurant dining —with additional safeguards in place to protect employee and customer safety as we continue to experience high caseloads and transmission rates. Until Friday, the County will be operating under the Health Officer order of November 25, 2020.
What is allowed today:
Private gatherings (Limited to 3 households & total of 15 persons; outdoors only)
Family Entertainment Center (Outdoor only at 50% capacity)
Museums, zoos, aquariums (Outdoor only)
Cardrooms Outdoor (Outdoor only at 50% capacity)
Miniature golf, go-karts, batting cages (Outdoor only at 50% capacity)
Outdoor recreational activity (Outdoor only)
Hotels, Motels Tourism, and individual travel
Fitness facilities (Outdoor only)
Personal care (25% indoor capacity)
Indoor mall, shopping center, lower-risk retail (25% indoor capacity)
Restrictions Remaining in Effect Until January 29th
Restaurants, wineries & breweries Take-out only, no outdoor dining
Restricted hours Non-essential businesses closed from 10 p.m. to 5 a.m.
For more information, please visit the Los Angeles County COVID-19 information site.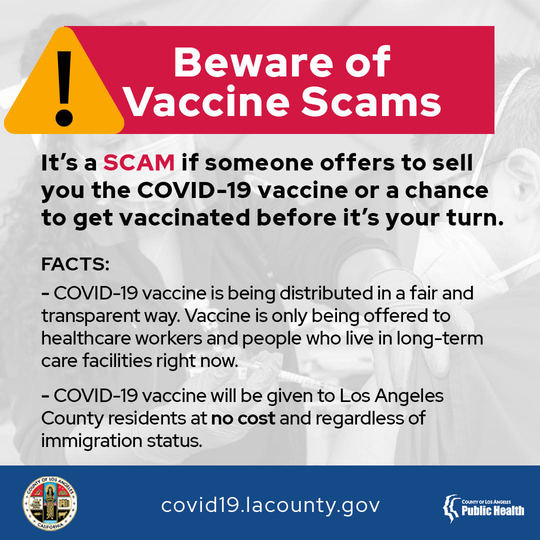 BE AWARE OF VACCINE SCAMS
  The COVID-19 vaccine is being distributed in Los Angeles County in a fair and    transparent way.
  If someone offers to sell you a chance to get vaccinated before it is your turn,        it's a scam. 
Resources
Category Search
Food Services
Small Business Resources
Housing Services
Everything Else
Mental Health Services
Category Search
211 LA has developed a Category Search specifically for COVID-19 related information and services. This search will include resources for a wide range of topics, all of which can support those impacted by the novel coronavirus.
Access this search tool HERE. 
You may also search for COVID-19 specific information and services by selecting the "Coronavirus" checkbox in the search filter tool.
Food Services
211 LA is the entry point for a variety of food programs for Seniors & Persons with disabilities, including the Great Plates Delivered program, WIC, and Critical Delivery Service, and can provide referrals to a wide variety of other food-related programs. 
Search 211 LA's Food resources HERE.
CalFresh is California's food stamps (SNAP) program, which supports low-income households by providing monthly funds to buy food. During COVID-19 CalFresh has special additional services to support families, including buying groceries online at Walmart and Amazon for home delivery.
Learn more about CalFresh HERE and Apply for CalFresh HERE.
Small Business Resources
U.S Small Business Administration is offering low-interest federal disaster loans to California small businesses suffering substantial economic injury as a result of the novel coronavirus (COVID-19).
Apply for a Loan by Dec.16, 2020 HERE.
For resources related to Income & Employment go HERE.
View FAQs about the LA Regional COVID Fund HERE.
 
Housing Services
LA County has opened a new COVID-19 Rent Relief Program. Eligible renters may qualify for up to $10,000 in rental assistance. Please view the program details before applying HERE
211 LA is an entry point to the Coordinated Entry System (CES) for Los Angeles families seeking housing assistance. 211 LA screens homeless families for eligibility and links them to the appropriate housing support service provider. Dial 2-1-1 to connect with this program.
For other Housing related services, use 211 LA's Housing Services search HERE.
Everything Else
For resources on everything else:
Healthcare, Education, Legal Services, Re-Entry Services, Transportation, Utilities & Community Services, Immigration, LGBTQ, Seniors & Older Adults, Disability Services, Veteran Services, Youth Services and MORE
Use our Online Search or Dial 2-1-1.
Mental Health Services
During the COVID-19 crisis, Headspace and the LA County Department of Mental Health (DMH) have partnered to provide FREE support and resources for LA County residents. These services include meditations, sleep, and movement exercises designed to help you care for your mind.
Sign up for Headspace's services HERE.
For other mental health services go HERE.
Resource Updates
Has your agency altered their services due to COVID-19? Submit any changes to your organization's services and 211 LA's Resource Team will reach out to you to verify changes.
Connect via Chat
Have more questions? or need help finding resources? Chat with a 211 LA Community Resource Advisor now:
Official Information Sites
211 LA's Newsletter
Stay informed on the latest information and programs by signing up for 211 LA's Monthly Newsletter