LA County COVID-19 Rent Relief

The COVID-19 Tenant Relief Act – SB91 (Act) was signed into law on January 29, 2021. The Act extends eviction protections to COVID-19 impacted tenants and establishes the state's Emergency Rental Assistance Program.
California Emergency Rental Assistance Program 2021: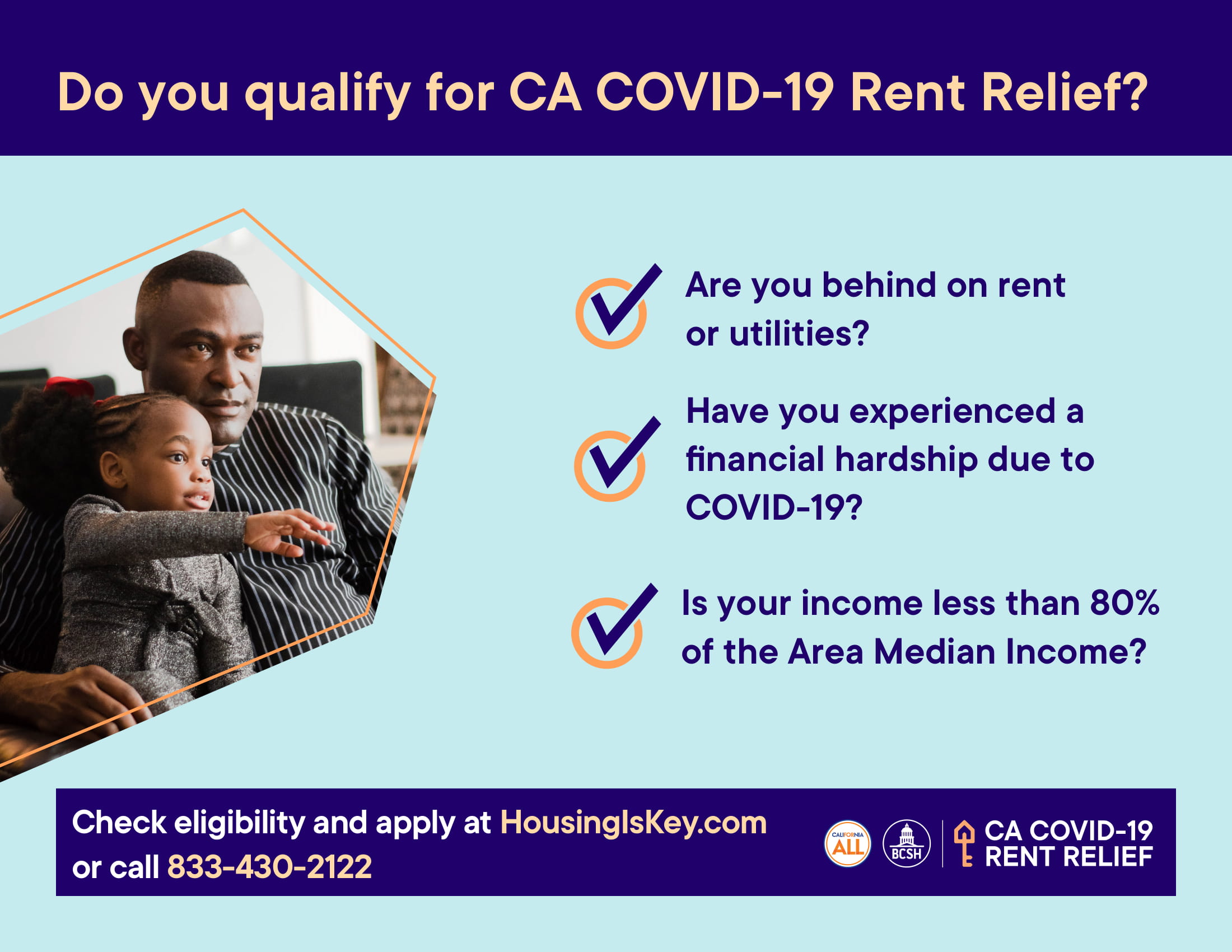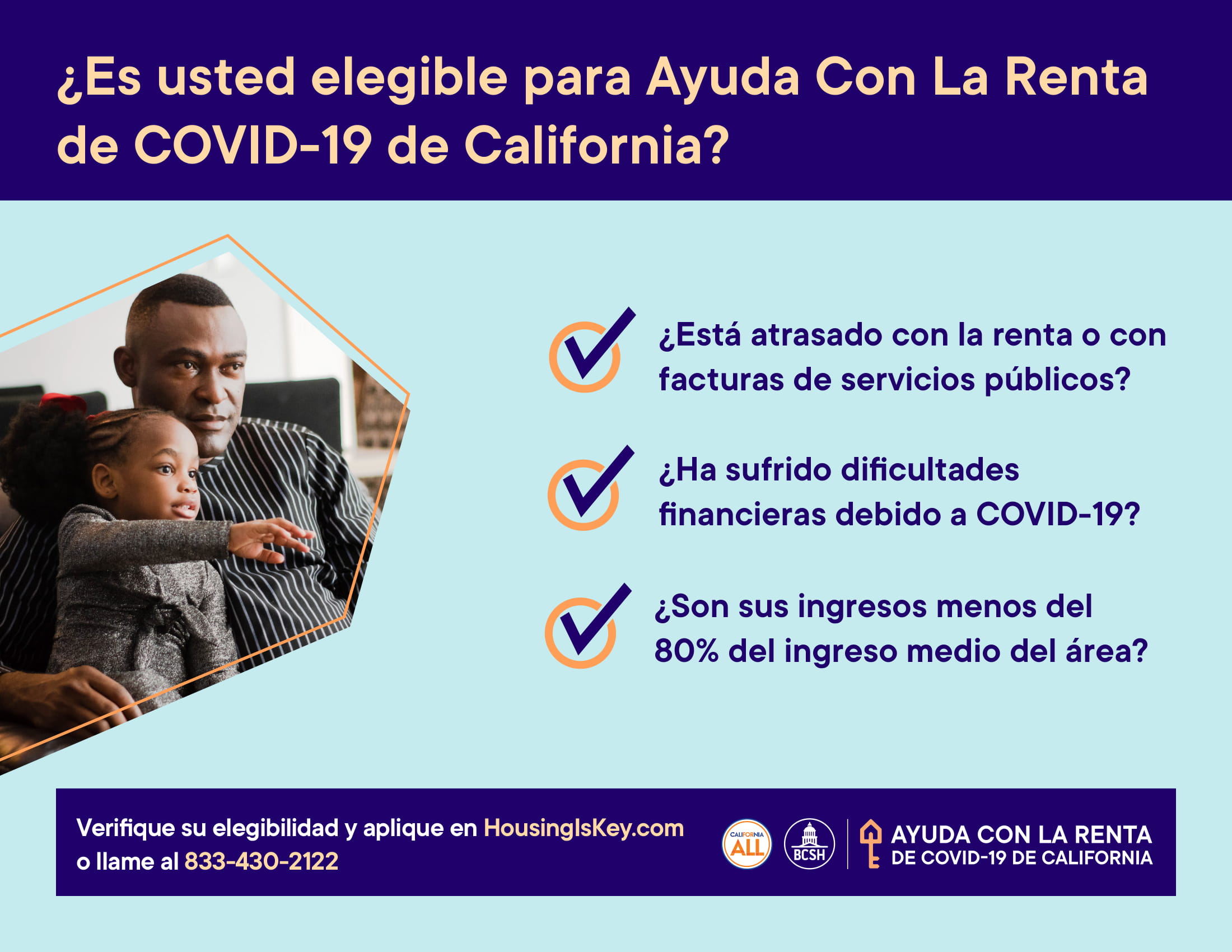 211 LA Spotlight
If you previously signed up for notifications from 211 LA regarding rent relief programs, you will be receiving communication in the coming week directing you to this page for updated information. 
Signed up and didn't get our email or text notification? You may have entered your contact information incorrectly, or previously unsubscribed from our emails. Don't worry, you can resubscribe here!
Things to Know:
211 LA is not running a Los Angeles County Rent Relief Program at this time.
211 LA is able to connect you to health and social services information available to you in L.A. County.
If you would like to continue to receive updates from 211 LA, including announcements and guidance for the State-Wide Rental Assistance Program when it becomes available, please sign up for our newsletter, below. You will not continue to receive rent relief updates unless you complete the newsletter sign-up process.
Local Government Rental Assistance:
Multiple cities in Los Angeles County are conducting their own rental assistance programs. If you are a resident of one of the following cities, please click on the city you live in for more information:
City of Long Beach - More information coming soon
City of Santa Clarita - More information coming soon
City of Los Angeles 
The city of Los Angeles has created the Emergency Rental Assistance Program (ERAP) under Senate Bill 91, for eligible individuals at or below 50% of the area median income (AMI).  The program can pay 80% of a tenant's past due rent if the landlord agrees to waive the remaining 20%. If a landlord does not agree, the program can pay 25% of the tenant's past due rent, as well as up to 25% of the tenant's upcoming rent, for 3 months.
Individuals without computer access, and those who need application assistance, can call (833) 373-0587, Mon through Fri, 8am to 8pm. To apply, visit hcidla.lacity.org. 
State-Wide Eviction Moratorium Extended 
The Act extends tenant protections included in the Tenant, Homeowner, and Small Landlord Relief and Stabilization Act of 2020 (AB 3088) to June 30, 2021. These protections were originally set to expire on February 1, 2021. The Act includes the same eligibility and program rules as before including:
Prevents evictions for nonpayment of rent by tenants experiencing a COVID-19 hardship.
Available to any tenant who timely attests under penalty of perjury that he/she has not been able to pay full rent due to COVID-19-related circumstances.
If a tenant pays at least 25 percent of his/her rent owed between September 2020 and June 2021, they are permanently protected from eviction for not paying their full rent during this period; however, they will still owe their landlord all unpaid rent.
Landlords may still proceed with certain other types of "just cause" evictions unrelated to a tenant's failure to pay rent.
ALERT: LONG HOLD TIMES
Please be aware that there are currently long wait times for the 2-1-1 line due to the number of people calling related to COVID-19. Our team of Community Resource Advisors is working to assist as many people as quickly as possible. If you call, you have the option to receive a call back when you are next in line.