2022-2023 WINTER SHELTER PROGRAM
November 1, 2022 - March 31, 2023
** COLD WEATHER ALERT: Due to continued cold weather, the LA County Augmented Winter Shelters (Emergency Shelters) are currently activated through Tuesday, 12/6. Weather Activated Shelters are also available during this timeframe. 
ARE YOU IN NEED OF SHELTER?
The Winter Shelter Program is held annually to protect people experiencing homelessness during Los Angeles's colder months. Winter Shelters are located all across the County, and will be operating 24 hours a day this year due to COVID‑19.
For more information, please see our English and Spanish Winter Shelter Flyers.
For more information, please call the Winter Shelter Hotline 1 (800) 548-6047 or click the button below.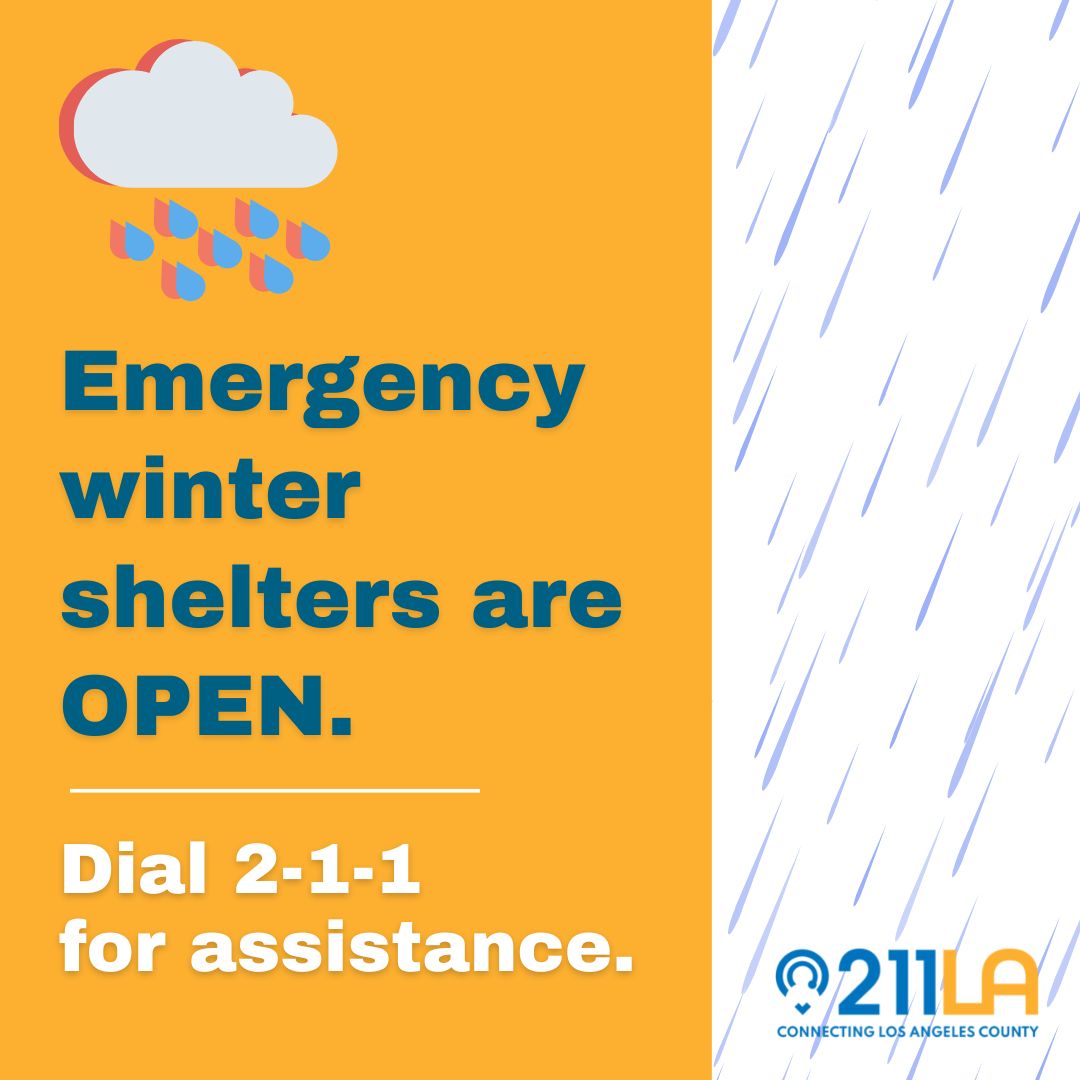 Augmented Winter Shelter (AWS)
Weather-activated shelters are short-term, emergency shelters that provide individuals experiencing homelessness a safe and supportive place to stay during inclement weather.
Population served: Single adult individuals 18 years or older and transitional age youth between the ages of 18-24.
211 LA's role:
To link those experiencing homelessness to the closest Augmented Winter Shelter in their area. 

 

Provide transportation 

   
For more AWS information, please call the Winter Shelter Hotline 1 (800) 548-6047.
Partners: Los Angeles Homeless Housing Authority
Note:  The Augmented Winter Shelters can only be offered when activated.  Due to weather concerns, they are activated at this time through Tuesday, 12/6/22
Click here to review Winter Shelter Grievance Policy.

Click here to review Grievance and Termination Procedures for YR/WS Program
1.) FIND A SHELTER
Use the list of shelter locations provided and pick one that is close to you. 
2.) CALL TO CHECK AVAILABILITY
All shelters require you to call first before coming. Dial 2-1-1 to be referred to a shelter closest to you, or call 1-800-548-6047 for faster service. 211-LA-County will ensure there is a bed available prior to the referral. There are a limited number of beds at each site.
3.) PACK YOUR BAGS
All shelters have a two (2) bag restriction. Anything more will not be allowed into the site. 
4.) FIND TRANSPORT
Transportation is limited - refer to list for sites that offer transportation.
CONNECT VIA CHAT
Have more questions? or need help finding resources? Chat with a 211 LA Community Resource Advisor now: