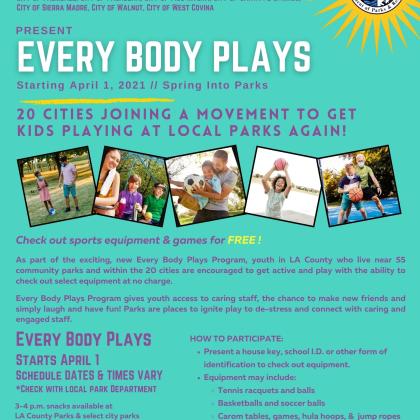 Every Body Plays
This Spring, visit LA County Parks locations for recreation and adventure! We are offering a variety of new FREE programs for youth and families, including sports equipment rentals during afterschool hours, sports clinics for ages 6-12, and exploration programs to discover the wonder of nature and wildlife. Make LA County Parks your destination for Spring fun!
Please see https://parks.lacounty.gov/everybodyplays/ for locations, dates, and times.
How to Participate:
• Present a house key, school I.D. or other form of identification to check out equipment.

Equipment may include:
• Tennis racquets and balls
• Basketballs and soccer balls
• Carom tables, games, hula hoops, & jump ropes
Schedule dates and times vary.