How can I order Safe Surrender Kits for a designated Safe Surrender Site?
answer
Safe Surrender Sites including hospitals and designated fire stations can order Safe Surrender Kits by submitting an order form to the Office of Child Abuse Prevention (OCAP). The Order Form is Publication 400B as listed on the CA State website for OCAP.
To download and print the Safely Surrender Kit Order Form (Pub400B) now, please download it here.
Please note the Safely Surrender Baby Kits are available in English, Spanish, Chinese and Russian.
The order form will require the name of the person requesting the Safely Surrender Baby kits, the name of the requesting organization, the requesting county, telephone, email and the name on the County Health and Human Services Agency along with the Health and Human Services Agency's USPS Business Reply Mail Code.


 

To obtain the USPS Business Reply Mail Code please contact your Health and Human Service Agency for your County.
*A surrendering individual may complete the optional medical questionnaire that comes with the Safe Surrender Kits and then mail in the questionnaire to the local county health program at no expense. The County Health and Human Services Agency's USPS Business Reply Mail Permit Code would be used for the optional medical questionnaire return envelope.
What is a Safe Surrender Kit?
answer
A Safe Surrender Kit is a package hospitals, fire stations, and designated Safe Surrender Sites can request with the following materials in each package:
1. Procedures for accepting a newborn
2. Two coded ankle bracelets, 1 for the newborn and 1 for the parent, both with identical and unique codes to facilitate reclaiming the baby
3. Materials for surrendering individuals: Optional Medical Questionnaire, Safely Surrender Baby program fact sheet, and a prepaid envelope.
How can I receive materials for the Safely Surrender Baby program?
answer
There are a variety of materials, including Safe Surrender Baby brochures, in the section below titled "brochures, publications and forms." These program materials, including publications and brochures can be used for outreach and can be downloaded below. Please note that the materials below are in standard pdf format and are available for download and can then be printed using a preferred printing method.
Please note a limited amount of publications may be available by request from the California Department of Social Services. If a Service Provider would like to request available publications, please email:
OCAP@dss.ca.gov
When you send a request for publications via email be sure to include the publication number (i.e. Pub 400 or Pub 400A, quantity, agency name, agency address, email address and a valid telephone number.
What information is supposed to be on the confidential ankle bracelet?
answer
Although the State of California currently does not require a standardized format, each pair of ID bracelets must display a matching, unique, coded ID number. Any combination of letters and numbers is acceptable as long as the pair of bracelets are identical with the same code.
I am doing outreach and need data or statistics, where can I get this?
answer
A limited amount of Safely Surrender Baby Data can be found below:
From January 1, 2001 toDecember 31, 2017,931 newborns have been surrendered in California. This is compared with 164 infants abandoned since 2001, identified according to CDSS Methodology .
Available data indicates a generally decreasing trend of abandonments since enactment of the SSB Law, from 25 cases in 2002 to five or fewer cases per year since 2010, representing a decrease of at least 80% (calendar year 2006 appears to be an exception to the trend of decreasing abandonments). The CDSS continues to identify abandonment cases from various sources and will continue to report updates to this trend.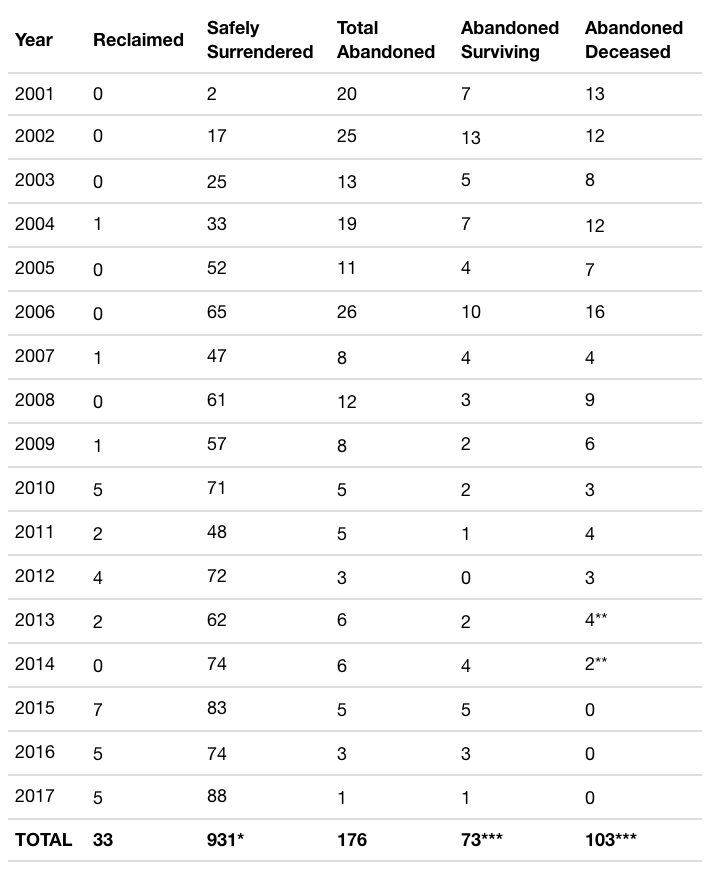 What information is on the medical information questionnaire?
answer
The medical information questionnaire shall not require any identifying information about the child or parent or individual surrendering the child, other than the identification code provided in the ankle bracelet placed on the child.

Safely Surrendered Baby Optional Medical Information Questionnaire**   
( English ) ( Spanish ) ( Chinese ) ( Russian )
 **Please note: The medical information questionnaire is optional and is intended solely for the purpose of colllecting medical information critical to the health and survival of the newborn child.
Brochures, Publications, and Forms can be downloaded here:
answer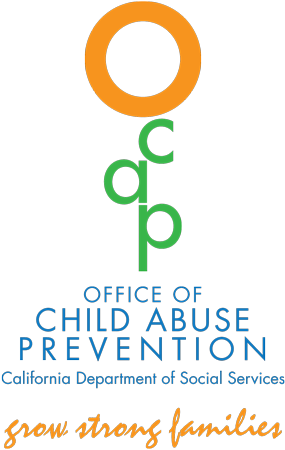 OFFICE OF CHILD ABUSE PREVENTION
The California Department of Social Services, Office of Child Abuse Prevention (OCAP), has funded operation of the Safely Surrendered Baby (SSB) Statewide Hotline since 2010.
As a result of efforts to promote understanding of the law, more than 700 newborns have been surrendered in California since 2001.