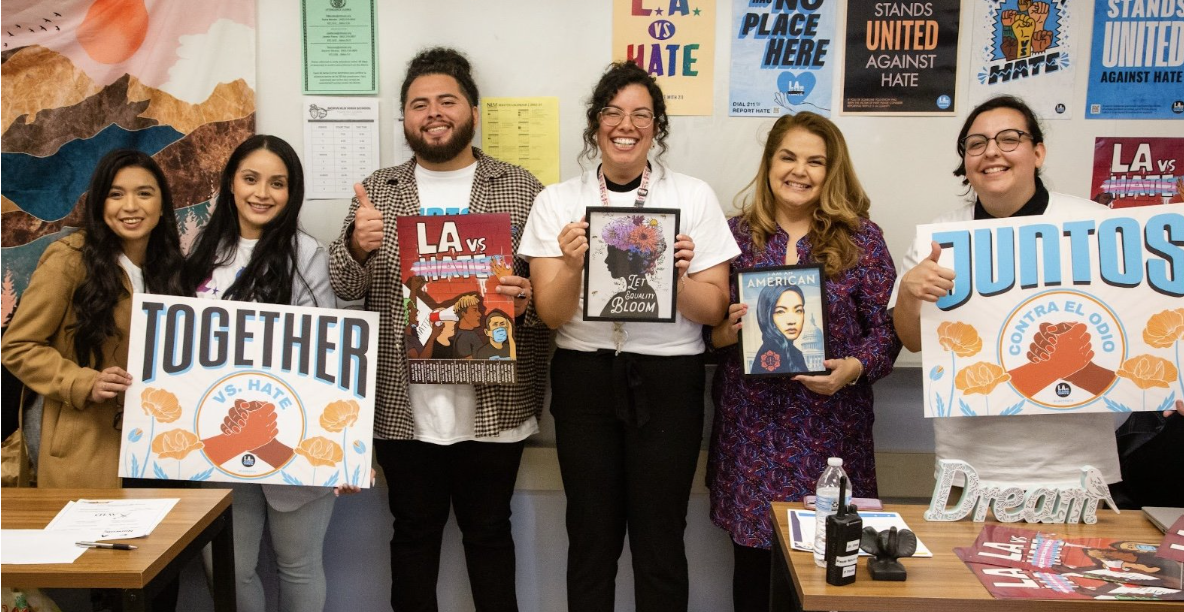 Written by Gilbert Zavala
October is National Bullying Prevention Month
In schools across the nation, students face a risk of bullying based on their identity, including factors such as race, religion, gender, appearance, socioeconomic status, and sexual orientation. Some of the most troubling examples of bullying can be traced back to these identity-based prejudices. The impact of name-calling, harassment, and bias-motivated hate can escalate into even more severe forms of violence if left unchecked.
However, there is hope for Los Angeles County's schools, thanks to Stop the Hate, a school-based anti-hate intervention initiative funded by the California Department of Social Services (CDSS). In Los Angeles County, key partners in this initiative include AAPI Equity Alliance, the County Human Relations Commission, Helpline Youth Counseling (HYC), the Asian Youth Center (AYC), and 211 LA. Together, this team of support service providers has partnered with middle and high schools to build Dream Centers, safe and inclusive spaces for students and their families.
The Dream Centers are staffed by 211 LA Care Coordinators and partner organization staff members of HYC and AYC.
Dream Centers are designed to serve immigrants, LGBTQ+ individuals, BIPOC individuals, English Language Learners, students with special education needs, and all students seeking a secure space to form connections, enhance their educational experience, and actively engage with their local community.
Dream Centers dedicated to combating bias-based bullying:
Fedde Middle School in Hawaiian Gardens

Artesia High School in Lakewood

Norwalk High School in Norwalk

Inglewood High School in Inglewood

La Puente High School in La Puente

John F. Kennedy High School in Granada Hills

Piute Middle School in Lancaster

Morningside High School in Inglewood
The Dream Centers are safe spaces where students can be their authentic selves and find friendship, better their educational journey, and learn how to connect with each other outside of a regular classroom. 
Through this initiative, Los Angeles County schools are taking proactive steps to ensure that no student feels targeted or marginalized due to their identity. 
The Dream Centers are a testament to the belief that every student deserves a safe and welcoming environment to thrive, learn, and grow.
Together, we can combat hate and bullying in our schools and community and build a secure and welcoming atmosphere for all students.  
 Below are Five Simple Tips to Prevent Bullying:
Learn About Bullying:

Understand what bullying is and why it's harmful. Knowledge is the first step in stopping it.

Be Kind and Respectful:

Treat others with kindness and respect, no matter who they are. Everyone deserves to be treated well.

Speak Up and Report:

If you see bullying, say something or tell a trusted adult. Don't ignore it.

Support Those Being Bullied:

Be a friend to someone who is being bullied. Offer your help, and let them know you're there for them.

Join Anti-Bullying Efforts:

Get involved in anti-bullying programs at school or in your community. These programs teach how to stop bullying and create a safe environment for everyone. or if you are a student of one of the above-listed LA County schools, visit your local Dream Center.
About Stop the Hate: Funded by the California Department of Social Services and in collaboration with the County of LA Commission for Human Relations and Helpline Youth Center, the Stop the Hate Program provides support services to victims and survivors of hate incidents and crimes. The program also aims to help communities that have historically been vulnerable and targeted because of their racial, religious, gender/gender expression, sexual orientation, or other identities. The Dream Resource Centers are community and school-based centers where victims of hate and their families can meet with counselors to provide them with support services.
About LA vs Hate: LA vs. Hate is a community-centered program designed to support all residents of Los Angeles County. Led by the Human Relations Commission, LA vs. Hate partners with community partners from all five County districts, representing a diverse coalition of voices committed to ending hate.
Explore Justice: The Explore Justice video series is an opportunity to challenge our own prejudices by educating ourselves on social justice topics and issues that many are still experiencing today. Each category's content is split into sections focused on history, the present, and Los Angeles. Alongside each video are reflection questions, next steps, and resources focused on building resilience.
To learn more about anti-hate programs or to report an act of hate, please visit 211la.org/anti-hate-programs or dial 2-1-1.