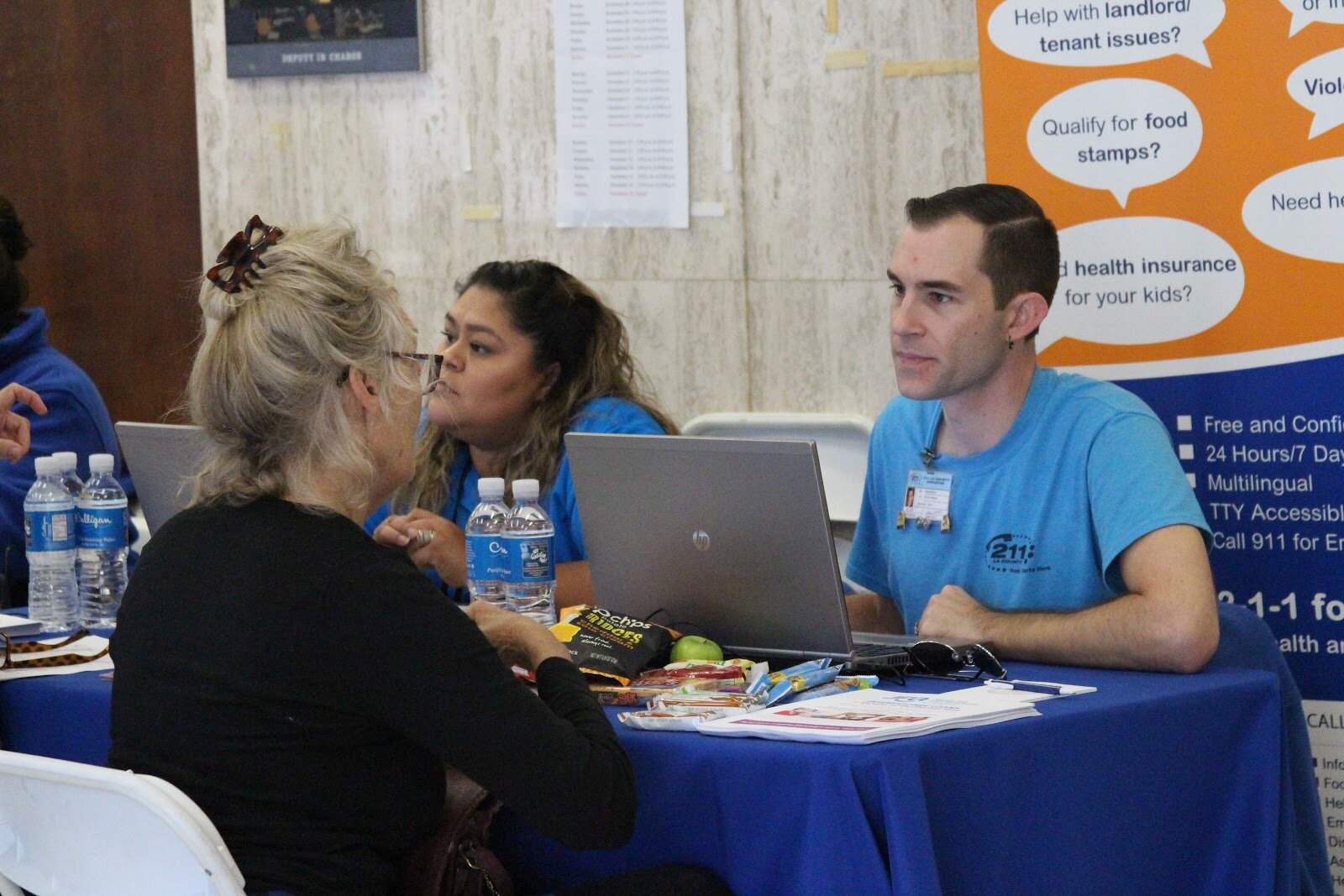 By: Sterling Mayes
During the response effort for the Woolsey Fire, I had the privilege of assisting our community at two Disaster Recovery Center (DRC) locations. I volunteered for the entire duration of the response phase, from November 2018 to February 2019 and even picked up overtime when additional support was needed. I devoted all of my time to the effort as I saw the urgent need to prioritize helping those dealing with, quite literally, the worst days of their lives. I knew that by volunteering my time as a Care Coordinator, I was also able to ensure more 211 LA Community Resource Advisors (CRAs) could stay on the phone and continue their full scope of duties including responding to disaster-related calls. 
At the time, my usual work at 211 LA involved assisting the Resource and Event departments at 211 LA; making intellectual contributions to the development of the new resource management tool, curating our website's community calendar, and sporadically representing 211 LA at events. Previous to this, I had about 4 years of Information and Referral experience, and the years of intensive continual training that comes with this work. 
During the response phase for the Woolsey fires, my work at the DRC consisted of taking damage reports, submitting relief fund applications, and issuing referrals to the myriad county and nonprofit organizations offering any and all types of assistance programs targeted towards Woolsey survivors. From my own observations, every 211 LA representative conducted themselves in person just as I'd known them to conduct themselves on the phone: kind, though direct; compassionate, and thorough in their assessments; trusting, and determined fact-finders. In our work during Woolsey, we had the benefit of being face-to-face with our clients - an opportunity rare, and advantageous for building rapport. 
The financial losses Woolsey caused were staggering. I took damage reports for properties ranging in value in the tens of millions, to mobile homes worth a few thousand. People lost multi-generational family estates and an untold number of livestock, horses, draft animals, and crop acreage. Some families with mixed commercial/residential estates or small businesses lost both their home and entire livelihood in smoke and ash in one fell swoop.
Though the financial impact of this disaster was immense, it pales in comparison to the impact it made on the lives and spirits of the survivors and the rest of LA County. One individual, I assisted lost everything during the Woolsey Fire. My client's restrained grief gave way while she told her story of immeasurable loss - the total destruction of her home. I was able to provide her some small level of comfort through listening, using empathy and validation to establish rapport. Once that rapport was established, the client was able to focus on the tasks at hand with a forward-looking perspective. 
In summary, being face-to-face with, and helping the survivors of a disaster of this scale, was an experience that's hard to describe aside from the term "life-changing". The people coming to me more often than not had lost literally everything in the fires. The losses I learned about were heartbreaking, and some of the stories I heard will follow me for the rest of my life.