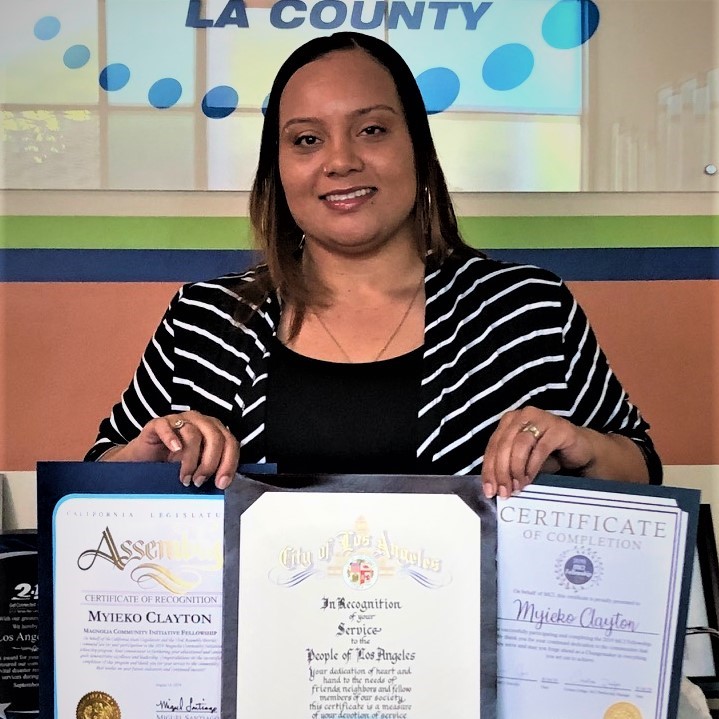 Myieko "Kiki" Clayton accepts certificates from the City of Los Angeles, California State Assembly, and Magnolia Community Initiative for successfully completing the MCI Fellowship program in 2019. 

Learning the Power of Collaboration: the Magnolia Community Initiative Fellowship
Recently, 211 LA's Client Services Manager, Myieko "Kiki" Clayton, completed a Fellowship program with Magnolia Community Initiative (the MCI Fellowship). Kiki gives us the downlow about the Fellowship and the lessons she learned about the importance of busting silos and working collaboratively to better serve people in need.
Q: What is the focus of the MCI Fellowship program?
A: The MCI Fellowship is an opportunity for professional and personal development. It helps emerging leaders cultivate their skills by utilizing the MCI model (the creation of a collaborative, community-based one-stop shop focused on preventive and holistic care for individuals seeking services from many organizations), and allows fellows to embark on a transformative learning experience.

Q: How did you get connected with this opportunity?
A: I received an invitation from MCI to apply for the upcoming fellowship cohort based on my work with MCI supporting the social service technology tool they use to enable collaborative care (211 LA's CareLinQ system).

Q: How was the program structured?
A: The fellowship requires a 6-month commitment.  I attended a monthly 4-6-hour session, participated in group projects, coordinated a site visit and tour of 211 LA for the other fellows, and attended professional networking lunches and events.
Q: What did you learn/gain from the program?
A: I learned how to build a solid foundation in regards to systems thinking, network theory, and adaptive leadership. It helped me improve the way I use empathy, both externally in the community and internally with colleagues. I also gained a better ability to understand my personal / family / organizational and community narrative, and how those narratives have shaped and impacted my personal and professional life. 
The fellowship also broadened my perspective and awareness of cultural issues such as social and economic justice and cultural literacy which impacts mass communities and deters their ability to be successful when accessing any type of service. The fellowship expanded my understanding of innovation and change through improvement science by cultivating my data literacy and project management skills. 
It also provided opportunities for cross-agency collaborations to further the work I do for 211 LA, which, in turn, strengthened my ability to network with new and current partnerships.  I was able to meet and receive insight from presenters who worked in various systems such as UCLA Center for Healthier Children and Families, Community Coalition, Health Leads and many more. The presenters brought their expertise, their experience and their wisdom to share with us as fellows which in return motivated and empowered us to want to do more in our own agencies. 
My favorite session was being able to learn more about complex adaptive systems and how so many agencies and service providers still silo the work they do as its own system and how they serve the community with the exact same mindset. I got to learn that because of that mindset the community suffers more with lack of service and literacy on how to navigate those services, because whole person or whole family care barely exist when a system is siloed. Community engagement and service driven success is attainable if only we stop thinking that individual service systems exist such as education or health and start thinking that we are a part of one large system. 
In order to support the community better, we as service providers need to bridge the gap between each of our individual agencies and provide more education and support to the community.
Learn more about the Magnolia Community Initiative here.