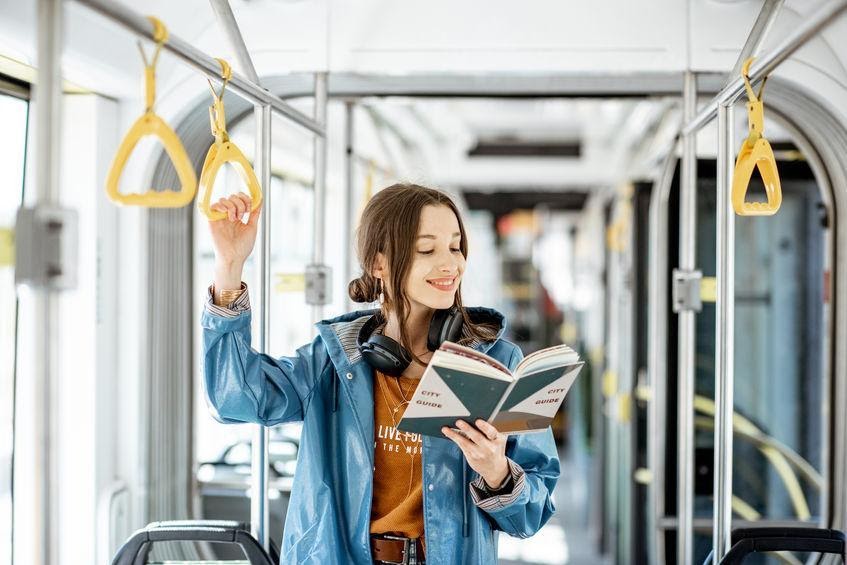 Guidance for Navigating Public Transportation in Los Angeles  
Los Angeles County spans almost 5,000 square miles and includes more than 80 incorporated cities. Figuring out how to get around without a personal vehicle can seem daunting, but with a little planning and practice you might decide to ditch the driver's seat for good!
What do I need to consider for planning a trip on Public Transporation?
Before plugging your destination into a trip planning search tool to determine your trip itinerary, it can be useful to ask yourself some key questions to find the best route that will work for you.
 
Visualize what is most important to you when taking public transportation such as:
Do you prefer to walk or bike for a few extra blocks to avoid transfers between bus lines/services?
Do you have physical limitations which require you to be picked up and dropped off very close to your destination? 
Does your budget allow for paying extra for express options such as Metro Rapid and Metrolink?
Are you open to alternative transit options like rideshares, vanpools, or bike rentals?
If you have a personal vehicle, would you be interested in driving to a "Park and Ride" facility as a part of your commute? 
Once you have narrowed down your transit preferences you can weed out services you won't use and choose the route that best matches your needs. 
What Transportation Service Do I Use?
Go 511
Now that you have thought through what type of transit options work best for you it is time to plan your trip. Go 511 is a great tool to search across multiple local bus and rail line services to find a convenient route. You can even create an account to save multiple trip itineraries for future reference.
  
Local Bus & Rail
Metro Bus, Metro Rail, LADOT DASH, and Metrolink offer services across wide areas of LA County, but are not the only options out there. Checking out services in the immediate area of your common start or destination points can open up transit opportunities that you may have initially overlooked. A search on 211 LA's website for local bus services and community ride programs will show a list of services available throughout LA County. Even better, some of these lines are FREE  or less than $1.00 for the general public and are perfect for short local trips to the grocery store and other errands. 
 
Specialized Services for Seniors & People with Disabilities
If you are a senior or a person with a disability there may be additional transportation options available to you. Services such as dial-a-ride programs are extremely useful for those with limited mobility who need to be transported directly to their destination. See a list of senior ride programs and disability related transportation on 211la.org. 
 
In addition to local dial a ride programs, the Access transportation program is available to eligible participants who are functionally unable to use standard public transportation due to a variety of disability conditions. To learn more about Access program and how to apply, visit Access Services page.  
How Much Will it Cost & How Do I Pay?
Part of planning your trip is determining ride fares and payment options. Nearly all public transit options accept cash and some accept credit cards, but being prepared with exact change is usually required. Here are some tips for managing fares and finding discounts.
 
TAP Cards
If you haven't ridden on Metro Buses in a while, the convenience of paying with a TAP card is a gamechanger. TAP cards have eliminated the nuisance of carrying exact change, bus tokens, or keeping track of paper passes and transfers.  TAP card funds can pay for a single trip, a one to 30 day pass, or annual pass and can be reloaded with funds in person with a local vendor, at Metro Rail stations, by phone, and online. Visit Metro's website for a full breakdown of fares.  
 
And TAP cards are much more than just a way to pay for LA Metro bus and rail systems. This form of payment is also accepted for Metro Bike rentals and TWENTY-FIVE different transit systems! Explore which transit systems in your area accept TAP cards on the TAP to Go website.
 
Discounted Fares
In addition to comparing fare prices with local bus services and dial a ride programs, you can save on transportation fees by enrolling in these discount fare programs:
Low Income Discounts: The Low-Income Fare is Easy (LIFE) program offers fare subsidies to low-income individuals in Los Angeles County. Participants in this program can be adult riders, seniors, people with disabilities, K-12 students, and college students who meet eligible annual income requirements. LIFE program discount subsidies can be applied to Metro fares as well as additional participating transit services. Visit LIFE Program webpage for information regarding which transit services participate in program and how to apply.
 
Discounts for Seniors and People with Disabilities: Many transit services offer discounted fares for seniors and people with disabilities. Before paying the full fare, be sure to reconfirm if any discounts apply to you. Metro offers discounts for seniors 62 and older which can be paid cash or with a reduced fare TAP card.  Visit these links for discounted Metro fare information for Senior Fares and Reduced Fare for Persons with Disabilities.
 
Discounts for Students & Children: Metro allows up to two children under age 5 to travel free with each fare paying adult on bus or rail. See these links for discounted Metro fare for Students K-12 and College/Vocational Students.
Helpful Links Summary
To cover transportation basics over a densely populated area comes a densely information packed article. Here is a summary of helpful links and travel guides which will guide you through different transportation services and methods. Now get out there and plan your next trip!
Searching 211 LA Website
Metro Services
Other Helpful Links